Christian Kay
Professor Christian J. Kay (1940-2016) was the second Director of the Thesaurus and ran a large family of researchers with unflappable humour and goodwill. Over the course of her long career she was an exceptional and generous scholar, and a good and close friend to many who worked with her.
First employed by Glasgow in 1969 to work on the Historical Thesaurus of English in its infancy, Kay was later appointed to a lectureship in the then Department of English Language, being named Director of the Thesaurus in 1989 and promoted to Professor in 1996. In her own words: "I never intended to be an academic. I worked in journalism, English-language teaching and publishing before becoming a research assistant and then a lecturer at Glasgow. The common thread is an interest in language." Retiring from her Chair in 2005, Christian continued to pursue the completion of the Thesaurus and was key to drawing up plans for a second edition. In 2013, the University of Glasgow awarded her an honorary DLitt in recognition of her extraordinary service to the study of the English language.
Many of Christian's articles were co-authored and she was a prolific editor of collected volumes, for she was a generous colleague and supervisor. Her own research was primarily on historical semantics, including issues of categorization and the lexicon, colour studies, corpus linguistics, kinship terminology, pragmatics, English grammar, and the history of Scots. Her principal work was, of course the Historical Thesaurus of English and its daughter project A Thesaurus of Old English.
In addition to being one of the most significant historical linguists of her generation, Christian was a highly efficient and effective academic leader. Her no-nonsense abilities, sharpness of intellect, and ability to deal with the idiosyncrasies of the University – and her colleagues – with tolerance and good humour made her universally respected. She was the founder of Glasgow's STELLA laboratory (the first dedicated computer laboratory for the study of English language and literature in the world), the Scottish Corpus of Texts and Speech, and for many years was Convener of Scottish Language Dictionaries.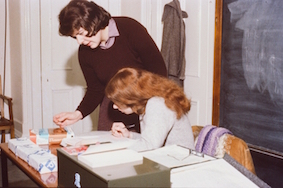 Having launched the careers of many young scholars, she is remembered by her friends and colleagues as a warm, incisive, and selfless scholar, as well as the kindest of friends. Her kindness, generosity of spirit, and unshakeable dedication were matched only by her dry sense of humour. In 2005, in an interview, the Times Higher asked her "What has been your worst moment in university life?". Christian instantly responded "The first time a student said, "You taught my mother.'"
In memory of Professor Kay, the University of Glasgow set up the Christian Kay Prize for Outstanding Achievement in Undergraduate Research into Modern English Language & Linguistics, which is paid from a fund established by friends, family, colleagues, and other supporters of the Historical Thesaurus and Christian's work. Contributions to this fund are very welcome, and can be made here. Christian's obituary in the Glasgow Herald can be found here.
A memorial concert was held in Christian's honour in the University of Glasgow Chapel on Wednesday 1 February 2017. The Director of Chapel Music, Kathryn Cooper, conducted the University Chapel Choir accompanied by Alan Tavener on the organ. Over one hundred friends and colleagues enjoyed the music of Mozart, Bach, Pergolesi and Verdi in pieces chosen by Christian herself. A recording of the concert is available below in three parts, and a copy of the programme is here.